Situated on opposite banks of the River Bure, Hoveton and Wroxham are ideal locations to begin exploring Norfolk Broads's 125 miles of waterways.
Despite being classified as a village, the abundance of commercial activity in Hoveton gives the settlement the feel of a small town. As you might expect there is a supermarket, a garden centre, a department store, and a range of other amenities.
But something is peculiar about these businesses. The stores look like any other, but the almost familiar red and blue text above the supermarket doesn't read 'Tesco', nor 'Sainsburys' or 'Waitrose' – it says 'Roys'.
Across the road, the department store sign simply states 'Roys'; to its right, is the garden centre, 'Roys Garden Centre'. Heading back towards Wroxham you find 'Roys Toys' and 'Roys DIY shop'.
Odd Days Out have been to investigate how – with the help of 'Roys of Wroxham' – the village of Hoveton has managed to buck the standard commercial homogeneity of most high streets and instead replaced almost every shop with a Roys.
History
Like other visitors, I imagined Roy to be a shadowy figure grasping control of local businesses across the community, marking his acquisitions as 'Roy's'.
Somewhat disappointingly, 'Roys' actually refers to the Roy brothers – Alfred and Arnold.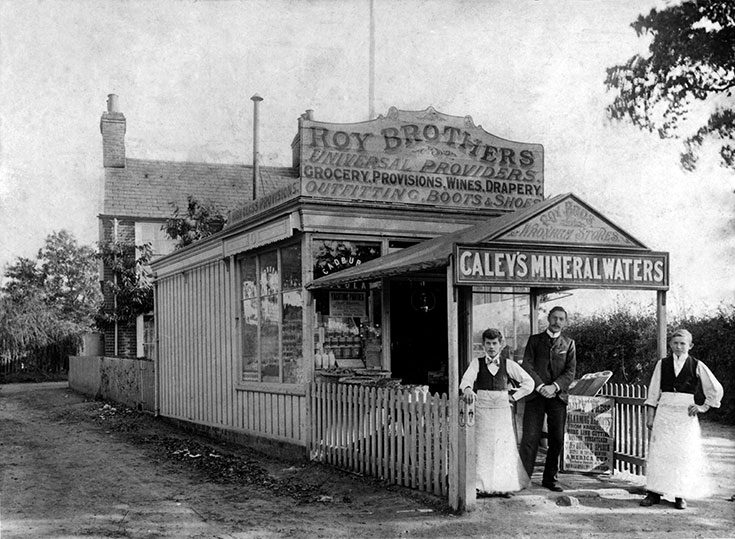 The brothers first set up their business in 1895 as a general store in the Norfolk village of Coltishall. So successful was this enterprise that they soon expanded, setting up shop in nearby Dareham – but it was their third store in Hoveton that really put their name on the regional map.
Despite being in Hoveton, packages for the store would arrive at the station in the neighbouring village of Wroxham. The Wroxham link stuck and the store became known as 'Roys of Wroxham'. To this day this causes confusion for visitors who believe themselves to be in Wroxham only to be told by locals they are in Hoveton, actually…
With the growing popularity of seaside holidays, Roys was in just the right place for tourists to pick up supplies en-route to coastal destinations such as Cromer. In addition, the location of Wroxham and Hoveton either side of the River Bure meant that boat trippers exploring the Broads would moor to visit Roys.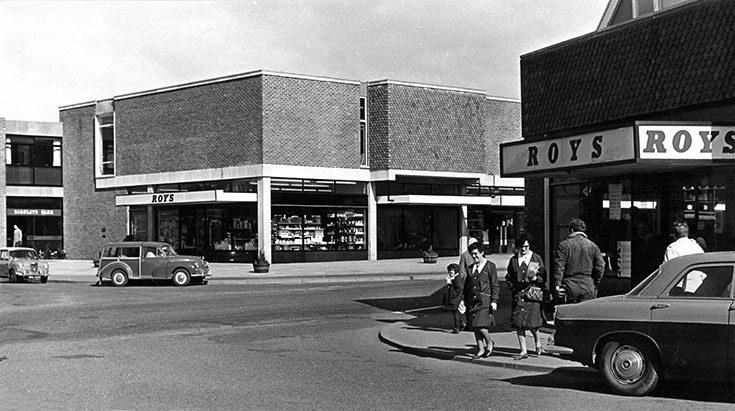 At the start of the first world war the brothers sold their Dareham store and began focussing on expanding within Wroxham and Hoveton. They opened a tailor, a pharmacy, a motor garage and even provided public utilities such as street lighting and public lavatories.
Roys today
Following the death of the Roy brothers in the early 1950s the business was taken over by Alfred's children. They continued to innovate, further protecting the village from outside intrusion by building a department store.
During this period, one of the children (Fred Roy) was sent on a fact-finding mission to North America. He returned with knowledge of the out-of-town shopping centre concept and convinced the family to adopt its methods. The grocery store began to use the now universal self-service style model and a large car park was built offering space for 100 cars – this has since expanded to accommodate over 1,000.
The supermarket expanded through the 70s and 80s and a separate food court was constructed. This now contains one of the few multi-nationals in Hoveton – a McDonalds, but worry not Roy fans – from the outside it does at least appear to be 'Roys McDonalds'.
Despite the changes over the years, the grocery store still clung to its title 'The World's Largest Village Store', a label it had earnt in a 1930s competition. Although the store is essentially a medium sized supermarket, nobody seems willing to or interested in challenging Roys for this accolade.
Fred Roy passed away in 1994 as did his brother Peter in 2005. It is now Edward and Paul Roy at the helm of the company, they too share their predecessor's expansionist, yet parochial spirit – a Wroxham petrol station was acquired in 2011 and since 2013 customers have been able to buy goods online through roys.co.uk.
Visiting
Part of the appeal of Roys comes from a sense of nostalgia. Department Stores across the country are closing down and traditional toy shops are becoming a rarity. Through continued innovation this family run business is managing to thrive where others have fallen by the wayside.
To both support independent business and to experience a high street without the standard array of shops, Hoveton, Wroxham and Roys are well worth a visit.
Sources
https://www.discovernorfolk.co.uk/story/roys-of-wroxham-925/